SUSLA administrator is April 'Above and Beyond' Award honoree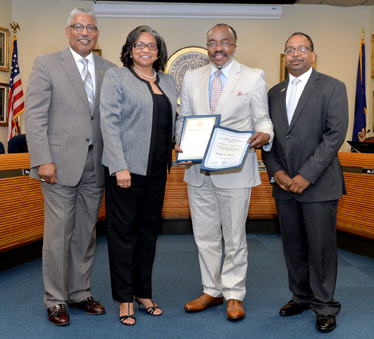 Major L. Brock, assistant vice chancellor for student success at Southern University Shreveport (SUSLA), is the "Above and Beyond" Award recipient for April 2017.
Brock, who was nominated by Glen Harris, education advocate, SUSLA TRIO Educational Opportunity Center, was recognized during the SU Board of Supervisors regular monthly meeting, April 21, in Baton Rouge.
"Of his many accomplishments, his unique quality of being able to operate comfortably on all levels with colleagues and students alike, is his most impressive attribute," said Harris, who was mentored by Brock.
The April 2017 Above and Beyond Award winner provides leadership to assigned areas in an effort to inform students and employees of the planning, assessing, expanding, and evaluation of curriculum and course requirements for successful college retention and completion.
"Brock is a valued SUSLA employee whose work in the re-affirmation process with the Southern Association of Colleges and Schools is noteworthy and commendable," said SUSLA Chancellor Rodney Ellis
The "Above and Beyond" Award was established to help inspire and motivate SU employees to reach their maximum performance. One award will be presented at the SU Board of Supervisors meetings each month.
"This award honors outstanding achievements in the workplace, exceptional contributions toward efficiency and effectiveness of operations, special efforts in promoting workforce excellence, or outstanding service to the University community and constituents," said SU Board Chair Ann A. Smith.
Recipients of the award are nominate their peers, the top three nominations are forwarded to the Board of Supervisors chair and vice chair for selection.
Nominations are due two weeks prior to all Board of Supervisors Meetings. Contact Maya Riley Banks at maya_banks@sus.edu or Michael Wells, at michael_wells@sus.edu
or call 225-771-4600, if you have questions or need additional information.