Newsroom
Campuses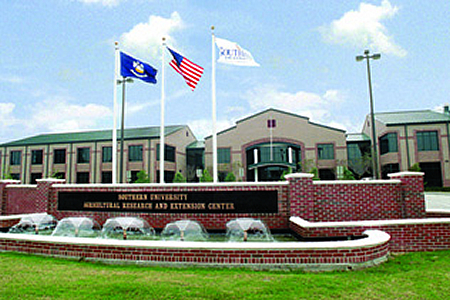 Southern moves closer to finalizing contract for Medical Marijuana Program
February 22, 2018
Baton Rouge, La. - Southern University is currently in the process of finalizing its contract with Lafayette based Advanced Biomedics, LLC as the University's medical marijuana cultivation and production facility operator. Southern announced the selection of its medical marijuana cultivator in September, but was unable to finalize the contract due to protest.
SU officials respond to flooding in Cade Library; BR campuses open
January 19, 2018
During recent inclement weather, including extended hard freezes, a major water line supplying chilled water to the mechanical room on the rooftop of the John B. Cade Library on the Baton Rouge main campus ruptured. There is flooding in the building. Please avoid the area while maintenance crews are currently assessing the situation and coordinating remediation and water extraction.
Southern University officials provide update on library flooding
January 19, 2018
University officials are continuing to survey the damages done to the January 18 flooding of the John B. Cade Library. Southern's Custodial and Risk Management team is working with Guarantee Restoration Services to ensure that the library repairs progress.
SU Fall commencement speaker says she was 'pushed into her purpose'
December 15, 2017
Faith Jenkins, who graduated top of her class from the Southern University Law Center (SULC), and is star of her own TV show, "Judge Faith," was the commencement speaker for the 2017 Fall Commencement Exercises at Southern University, Friday, December 15, in the F.G. Clark Activity Center.
SU welcomes $1.6 million from private gift, and corporate grant
November 24, 2017
In addition to an anticipated gridiron victory in the 44th Bayou Classic, Southern University wins $1.6 million in support including a $1.1 major gift from alumnus Antonio "Tony" Clayton and a $500,000 grant from Capital One, both presented during the SU System Board of Supervisors meeting today in New Orleans.
SU 'Human Jukebox' will march in Zion Tabernacle Bayou Classic Christian Fellowship Parade, Saturday, Nov. 18, in Lake Charles
November 14, 2017
The Southern University Marching Band, the "Human Jukebox," will participate in the annual Zion Tabernacle Bayou Classic Christian Fellowship Parade, Saturday, November 18, 2017, in Lake Charles.
SUNO Library receives $14 million makeover
October 31, 2017
The Leonard S. Washington Memorial Library at Southern University New Orleans (SUNO) will host an Open House Thursday, November 2, 2017 to celebrate and showcase its $14million restoration project. Tours are scheduled throughout the day at 11 a.m., noon, 1 p.m., 2 p.m., 3 p.m., 5:30 p.m., 6:30 p.m. and 7:30 p.m.
Southern University announces 2017 Homecoming Court
October 04, 2017
Shreveport native Felise C. Thompson-Doyle, who was crowned the 87th Miss Southern University, during a formal coronation Wednesday, October 4 in SU F.G. Clark Activity Center, reigned over the 2017 Homecoming on the "Bluff."