Southern University Board of Supervisors
Greetings from the Board Chair
Thank you for visiting the Southern University and A&M College System website. As the world's only historically Black college and university system, Southern is uniquely positioned to transform the lives of its students and surrounding communities. With a diverse mixture of campuses in Baton Rouge, New Orleans and Shreveport, Southern continues to consistently provide affordable access to education for the residents of Louisiana and beyond. From the high school diplomas we award at our laboratory school, to the associate degrees we offer at our two year schools to the doctoral and professional degrees we award through our graduate school and law school, Southern can help you to realize the educational and economic dreams of your family and future.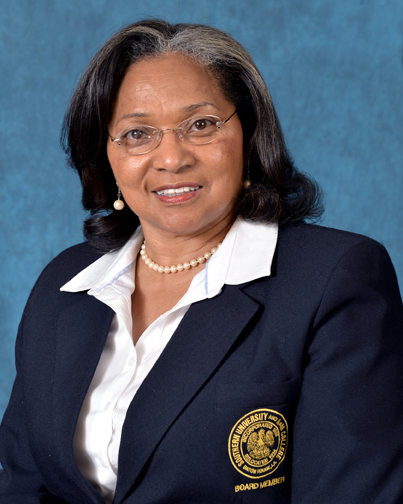 At Southern, we support our students with specialized, nurturing and culturally relevant instruction. We support our alumni with continuing education opportunities, deep bonds of fellowship and rich traditions – unique to our schools. Equally important at Southern, we support our communities through strategic partnerships, economic development, cultural programming and through our strong military tradition – Southern's ROTC program has produced nine United States military generals.
For these reasons and more, I invite you to browse our website and visit often. We are focused on better serving our students, strengthening our engagement with alumni of Southern and supporting our communities in strategically viable ways like never before. Keep watching … the best is yet to come.


Serving society through Southern,
Ann A. Smith
Chair
Southern University Board of Supervisors
Board of Supervisors Quick Facts:
The Board of Supervisors for the Southern University and Agricultural and Mechanical College was created by the Louisiana State Constitution of 1974.
The Board is vested with the responsibility via the Constitution and Louisiana State Revised Statutes for the management and supervision of the institutions of higher education, statewide agricultural programs and other programs which comprise the Southern University System.
The powers of the Board are subject only to those which are granted by the State Constitution to the Louisiana State Board of Regents.
The first official meeting of the Board of Supervisors was held in May 1975 on the Southern University campus in Baton Rouge, Louisiana.
Board Staff
Maya R. Banks
Board Relations Coordinator
Michael Wells
Administrative Assistant to the Board
Mailing Address
Post Office Box 10878
Southern University
Baton Rouge, LA 70813
***
Physical Address
4th Floor, J.S. Clark Administration Building
Southern University and A&M College
Baton Rouge, LA 70813
Telephone: 225.771.4600
Fax: 225.771.5791