Southern University 2016 Flood Relief and Resources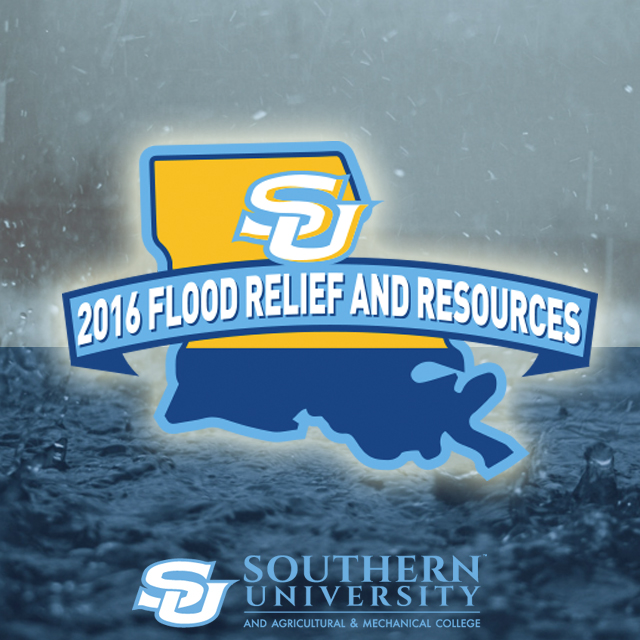 Notice to all Employees
If you have suffered damage and have been displaced by the recent floods, it is imperative that you sign up for disaster assistance at FEMA's website, www.disasterassistance.gov. When you register, you will be given a FEMA identification number which you should forward to Mr. Lester Pourciau, associate vice president for human resources, who has been designated to receive this information at: lester_pourciau@sus.edu.
Southern University Flood Relief Fund
The Southern University System Foundation, in cooperation with the University administration, has established the Southern University Flood Relief Fund, to provide assistance to University students and employees that have been significantly impacted by historic area flooding. Donations may be made here.
Employee Leave
Governor John Bel Edwards has authorized special leave for employees impacted by the 2016 Great Flood. The maximum amount of special leave that can be requested is up to five working days. Download Southern University System Special Leave Request Form here.
Employee Assistance Program
Counseling support for employees and students is available through the University Counseling Center, 225.771.2480, located next to the Health Center/Infirmary.
Diploma replacement
Southern University will replace diploma's for alumni who who lost their SU diploma due to recent flooding in Louisiana.
Contact:
Office of the Registrar
Southern University Baton Rouge
225-771-4063
Office of Records and Registration
Southern University Law Center
225-771-5340
Community/State/Campus Resources
Assistance/Relief for flood victims
Assistance/Relief for flood victims

How to sign up for FEMA housing assistance, Shelter at Home program after Louisiana floods
Southwest Center for Rural Initiatives Partners with Attorney to Provide FREE Notary Services to Opelousas area Disaster Victims
Why you may not need to file an insurance claim before applying for FEMA assistance
How to sort, dispose of debris, waste from Louisiana flood
How to replace important documents you lost in the flood
Things to know before hiring someone to repair flood-damaged homes
How to live in close quarters with friends, family after flood
FAQs Flood disaster issues for Health's Sake
Nonprofits spearhead furniture distribution for South Louisiana flood victims
Other important links and numbers:
Governor's Office of Homeland Security and Emergency Preparedness