Longtime SULC staffer receives 'Above and Beyond' Award for June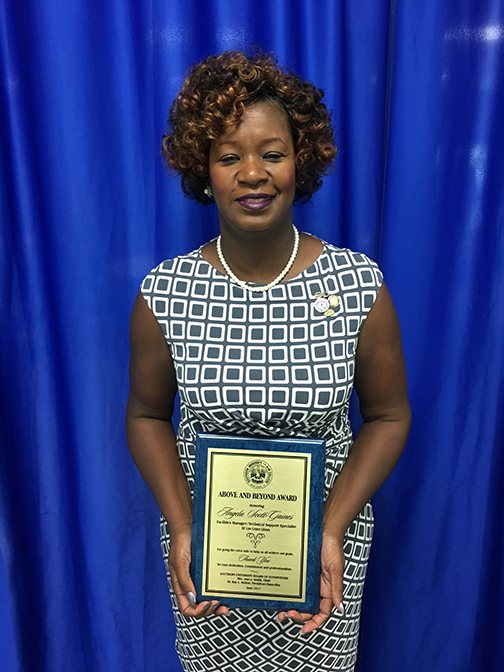 The June 2017 "Above and Beyond" Award recipient is a familiar face and name to many in and around the Southern University community. Angela Scott Gaines, SU Law Center facilities manager and technical support specialist for the Law Library, was recognized during the SU Board of Supervisors regular monthly meeting, June 16, at Southern University New Orleans.
The June 2017 Above and Beyond Award winner has been employed at SU for 27 years, 16 years at the SU Law Center. She began her work in the SUBR Comptroller's Office before transferring to the SULC.
"She is known to come first and leave last to help out students, faculty, and staff alike," said SULC Chancellor John Pierre.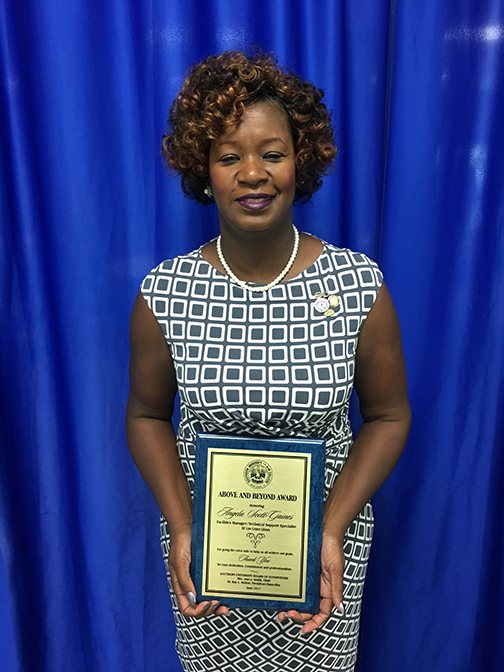 Gaines's commitment to the University does not stop with her day job. She sits on the Facilities Management Committee, Bayou Classic Committee, Homecoming Committee, Traffic and Parking Appeals Committee, SULC Development Team, and is a member of the Southern University Alumni Association. The dedicated employee also works diligently during athletic, Student Government, and other special events across campus.
The SU alumna's most recent accolades include 2017 Southeastern Regional Association of Physical Plant Administrators (SRAPPA) Facilities Scholarship recipient, 2017 APPA:
Leadership in Educational Facilities Leadership participant, 2016-2017 Student Bar Association SULC Staff Excellence Award, 2016 SU Home Chapter Award for work and dedication to SU, and 2016 Graduate
of APPA. She is a loving wife and dedicated mother.
"Thank you for this award. I love doing what I do. I do it to make the University shine and to make it a better place," said Gaines.
The "Above and Beyond" Award was established to help inspire and motivate SU employees to reach their maximum performance. One award is presented at the SU Board of Supervisors meetings each month.
"This award honors outstanding achievements in the workplace, exceptional contributions toward efficiency and effectiveness of operations, special efforts in promoting workforce excellence, or outstanding service to the University community and constituents," said SU Board Chair Ann A. Smith.
Recipients of the award are nominated by their peers, the top three nominations are forwarded to the Board of Supervisors chair and vice chair for selection.
Nominations are due two weeks prior to all Board of Supervisors Meetings. Contact Maya Riley Banks at maya_banks@sus.edu or Michael Wells, at michael_wells@sus.edu
or call 225-771-4600, if you have questions or need additional information.
This website uses cookies to ensure site visitors get the best experience on our website. By continuing to use this site, you accept our use of cookies and Privacy Statement. To find out more, please visit Southern University's Privacy Statement.
I agree